Travel Hacks for Europe: The best packing and planning tips for a trip to Europe.
It's no surprise that I love Europe.
I will never pass up an opportunity to come back to this small yet diverse continent.
And with every visit, I discover something new.
I've been giving lots of travel tips to friends recently, including my recommendations for things to pack and how to plan a trip through Europe.
So here are my favorite travel hacks for Europe!
Lots of these tips can apply to travel anywhere in the world! But some of the websites are more specific to Europe.
In this article, I'll list all my travel hacks for Europe. I'll start with packing tips for Europe, then list some useful websites and resources, and include some general travel tips for Europe.
Travel Hacks For Europe: What To Pack
Here are all my essential things to pack for Europe.
I won't list the obvious things like clothes, passport, camera, etc.
But I will note that when packing clothes, comfort is always key! Especially when hopping around different countries in Europe, you'll want comfortable clothes.
You'll also want comfortable walking shoes, as many places in Europe have cobblestone streets that can sometimes be hard to walk on.
Lastly, leave a bit of space in your bag for some souvenirs!
Microfiber Towel
This type of lightweight towel is perfect for traveling because it dries incredibly fast and folds up super small. It takes up barely any room in your bags, making it super convenient for backpacking.
A normal bath towel is bulky, heavy, and takes forever to dry.
I ordered a Rainleaf Microfiber Towel from Amazon and I absolutely love it. It took me a while to get used to the feeling of it, but now I don't travel without it.
Debit or Credit Card with No Foreign Transaction Fees
Withdrawing cash from an ATM is the easiest and safest way to use money abroad, rather than exchanging tons of cash or using travelers' checks.
When you arrive somewhere in Europe, look for an ATM at the airport to withdraw some foreign cash rather than exchanging at a currency exchange. Those places charge high fees and commissions.
Then once you arrive in the city you're visiting, visit a local bank ATM to withdraw more cash.
Make sure your card has no foreign transaction fees, so you can withdraw money in any country at no charge.
I use Capital One's 360 checking account. This is a great online banking system in the USA that doesn't charge foreign transaction fees while traveling.
Student ID Card
If you ever attended university, keep your student ID card and have it on you.
Tons of cities in Europe have student discounts at museums, attractions, and restaurants.
In Croatia for example, climbing the city walls in Dubrovnik or visiting Plitvice National Park had a student discount of almost 50%. So my student card saved me tons of money there.
Reusable Water Bottle
Luckily tap water is drinkable almost everywhere in Europe! So always have a bottle that you can refill.
This keeps you from buying plastic water bottles, so you'll limit plastic waste and save money.
I use a SubZero stainless steel bottle, which is sturdy and keeps water cold.
Some public places in Europe have water fountains which is awesome. But some places don't so never be afraid to ask for a tap water refill in airports and cafes.
Plug Adapters
The outlets in almost every European country are the round double prongs. So be sure to have an adapter for your electronics.
The UK uses the three flat prong outlets, so also be aware of that.
You can find cheap adapters from any hardware store or convenience store once you arrive in the country.
But if you travel often, it's worth just getting a universal plug adapter that you can take anywhere.
Rain Jacket
After a few years of traveling, I've found a good rain jacket to be much more convenient than packing umbrellas.
My rain jacket is Columbia and is super lightweight which is perfect for warm and rainy weather.
If you're traveling somewhere cold, buy a heavier one that also provides some warmth.
Here is the link for my favorite lightweight rain jacket, and here is the link for a great fleece-lined rain jacket for cold weather.

Drawstring Bag
Small Bag For Day Trips
This is one of the best things to pack for travel in Europe!
Any sort of small bag is great to have for day trips or going to the beach. A mini backpack or drawstring bag does the job.
I also bring my drawstring bag to the grocery store and street markets to avoid using plastic bags for food.
Headphones
Having a comfortable pair of headphones for long travel days is essential.
I just use regular Apple headphones, but I also have a pair of SleepPhones.
This is basically a soft band that acts as an eye mask or headband, but flat headphones are embedded into the lining.
With these, you can lie down on your side without bulky headphones hurting your ears.
They're great for overnight flights or when you're trying to sleep in a noisy hostel dorm room.
A Good Book
In addition to headphones, I love to have a good book to read for relaxing days in Europe. Whether nestled in a cafe or lounging in a park, a good book is a necessity for me.
Lots of hostels also have a library where you can swap out your book for a new one.
Books are heavy, however. So bring a kindle if you have one, or just skip the books if you're not a big reader.
Travel Hacks For Europe: Websites To Use Planning Travel in Europe
Here are all my favorite websites to use for planning travel in Europe.
I'll list the websites I use for finding transportation first. Then I'll list the best websites for accommodation in Europe, and for finding work exchanges in Europe.
Transportation in Europe
Skyscanner
I always use this website to find the cheapest flights in Europe!
Skyscanner allows you to search the "cheapest month" and shows prices on a full month calendar so you can pick the cheapest days.
You can also set your destination to "everywhere" so you can compare the prices between different places.
This is one of the best travel hacks for Europe. You can find flights for less than $10 sometimes!!
Omio (Formerly GoEuro)
This website compares flights, trains, and buses between cities all over Europe.
Just put in your departure and arrival destination and Omio will map out all the routes for you.
So this website is great for figuring out the quickest or cheapest option.
Rome2Rio
This website does exactly the same thing as Omio!
Rome2Rio may even have more European cities stored in its database.
It's perfect for comparing prices and travel routes.
Bookaway
Similar to Omio and Rome2Rio, Bookaway compares transport options from two destinations.
They have some super cheap bus journeys, some as little as 5 Euros!
Trainline
Trainline is another useful website that maps out transport routes.
But Trainline only compares rail and coach services around Europe.
Websites for Accommodation in Europe
HostelWorld
I use Hostelworld every single time I travel and it is the best.
Hostels are full of interesting people and are so affordable.
Always read the reviews when you book a place, as you can learn a lot from past travelers.
Sometimes it's worth paying a bit more for places that have a 7.5 or higher rating, as they tend to be better quality and have a better atmosphere.
Dorm rooms can cost between 10-20 euros a night in more westernized, touristy cities, which is still cheaper than a hotel room.
In Eastern Europe, hostels can be as cheap as 5 euros a night.
Most hostels also have private rooms or single-gender rooms available.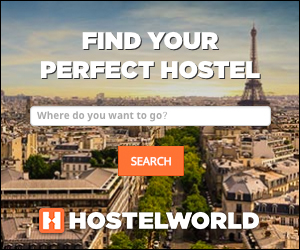 Airbnb
Usually a bit nicer and pricier than hostels, Airbnb's are great ways to meet locals and stay in a nice place.
If you have a large group of people, sometimes it can be cheaper to rent out a big Airbnb and all share the space.
Couchsurfing
This is the cheapest form of accommodation since you can stay in a local's home for free.
I personally have never done this because I love the social atmosphere and guaranteed safety of a hostel.
But I know plenty of people who have had great couchsurfing experiences.
Work Exchanges in Europe
WorkAway or Worldpackers
If you want to stay in one spot for at least three weeks, try signing up for Worldpackers or WorkAway.
With both websites, you can find international hosts that give you free accommodation in exchange for usually around 15-30 hours of work a week.
Sometimes you get free meals, sometimes you need to speak the local language or have certain skills, sometimes you can just show up and get a job that day.
Regardless, this is a great way to experience the local culture and become more immersed in a city for little money.
Travel Hacks for Europe: General Travel Tips
Though cultures and attractions differ between European countries, regions, and cities, there are a few general pieces of advice I'd like to give.
Walk as often as you can.
It saves money and you get to see more details of the city.
So skip those double-decker bus sightseeing tours because you might speed by the city's highlights too fast.
Join free walking tours.
Lots of cities have them and you can find info online or in your hostel.
These are a great way to learn the history and cultural insights of a city.
Go to the food market.
Almost every city has some form of central market, whether it's outside or in a large market hall.
Here the street food tends to be cheaper, and you can try lots of local cuisines in one place.
Eat and drink like the locals.
Food catered towards tourists generally has higher prices and lower quality than the traditional cuisine.
Drink local wine in Italy, or Rakija in Southeast Europe, or Brennevin in Iceland, or local beer in Germany and Belgium.
Eat codfish cakes in Portugal, shortbread in Scotland, rye bread in Scandinavia, paella in Spain, a big Sunday roast in England.
Food is a great gateway to a culture, so be adventurous and commit to the local foods.
Take day trips to neighboring towns and cities.
This allows you to see something new outside the major city if you are short on time.
You can usually find a cheap bus or train pretty easily.
Try to learn a few words in the local language.
Most establishments in touristy European cities speak English.
But even saying "hello" or "thank you" in the local language shows people that you respect and admire their culture.
Be openminded and positive.
Every European country is so unique and beautiful in its own way.
Don't underestimate the less popular places, and don't be afraid to travel alone.
Europe is generally pretty safe; the movie "Taken" does not represent daily life for every traveler in Europe.
Yes, people get pickpocketed and bad things happen sometimes but just be smart and confident.
Travel Insurance for Europe
Lots of people ask me about travel insurance and whether or not to buy it.
Travel insurance is a smart thing to have for traveling anywhere. It keeps you covered in case you have an emergency.
Honestly though, I have never bought travel insurance for Europe. It's a very safe place to travel, with no tropical diseases or so poisonous animals, and I never did any dangerous activities there.
Most of my trips to Europe have been tame and relaxed. I'll do the occasional skiing or hiking or rock-climbing, but nothing that threatens serious injury.
But if travel insurance makes you feel more comfortable, get it! Better safe than sorry.
In my personal experience, Squaremouth Insurance is the best company because its plans are cheap and they provide all the coverage you need.
They have a helpful online live chat that helped me clear any confusion I had about my plan.
Visas For Europe
Depending on your nationality, and which European countries you plan on visiting, you may need a visa.
Just be sure to check visa requirements before you fly over to Europe.
I like to use iVisa.com. Their website is clear and concise for checking requirements. You can also apply for visas online!
Visit iVisa.com to check visa requirements in Europe!
Read about some of my favorite European adventures here:
Why Warsaw, Poland Changed My Life
Magical Moments in Sofia, Bulgaria
3 Beautiful Hiking Destinations in Great Britain
Transylvania, Romania: The Ultimate Budget Travel Guide
Best Vegetarian Street Food In Rome
6 Reasons To Visit The Czech Republic
This post may contain affiliate links. Read more about this in my About Me page!