Tips on how to afford traveling the world when you're young & broke.
I write extensively about my budget travels on this blog, but I still get so many questions about how I maintain a traveling lifestyle.
Most of these questions revolve around money. So I want to write a detailed article outlining exactly how I gallivant around the world without going completely broke.
Since I found my passion for traveling at age 18, I've funded every trip myself and had to pay student loans in the process (like most other Americans).
My parents never just handed me money to travel, but they taught me to be independent and smart with money.
My life is by no means extravagant. Those who know me could say I sometimes take budgeting to the extreme.
I've spent countless nights sleeping on airport floors to avoid buying a hotel room.
I've eaten only oatmeal and plain pasta for an entire week to save money on food.
But I've been to over 30 countries and I've only just turned 23.
So for those who think traveling is too expensive and complicated, I'm here to tell you IT'S NOT!
If traveling is truly one of your goals, it is very achievable with the right mindset.
In this article, I'll list all my general tips for saving money as well as explain how to afford traveling the world.
I genuinely hope this advice will inspire some people to travel more 🙂
How To Afford Traveling The World In Your 20s Tip #1:
Work hard and save money before a trip.
Pretty much everyone in their 20s has a job and a savings account. These are the only tools you need to travel the world!
The key is actually saving enough money to afford a trip, which may require some lifestyle changes.
How to save money for travel: the simplest method:
Stop buying things you don't need! You will be amazed at how much you can save!
Last summer I lived at home for a few months, worked two jobs, and made money-saving my main priority.
I rarely had days off and sometimes felt overwhelmed working 60+ hour weeks. But I paid off all my student loans and bulked up my bank account again. This allowed me to travel without an income for the following four months.
This lifestyle isn't for everyone. Some people love shopping and dining out, and there's no point restricting yourself if it's going to make you feel unfulfilled.
This advice I am giving is for those who think traveling might fill their lives with more joy than material possessions.
So for these people, basically just save all your money except for buying things you actually need.
How To Afford Traveling The World In Your 20s Tip #2:
Work While Traveling.
If you have a longer time frame to travel (three weeks or more), try working abroad in one of the following ways.
How To Work While Traveling Option #1. Work Exchange
Work exchanges are when you work in exchange for free accommodation and sometimes free food and other perks.
They are usually unpaid, but your living expenses are close to nothing.
My two favorite work exchange websites are Workaway and Worldpackers. Both websites have a yearly fee of 44 USD. But then you can contact unlimited hosts for free, and go live abroad basically for free as well.
On both sites, you can easily browse job listings either by country or by type of work, then send a message to the host to discuss details and dates.
Most work exchanges require a minimum two-week stay but encourage longer visits. If you stay somewhere for less than 90 days you usually won't even need a visa.
You can literally just show up in a foreign country and start working. SO EASY.
Be sure to check visa requirements before you book a work exchange anywhere. I recommend using iVisa.com for this!
Types of Work Exchanges
Some work exchanges look for travelers with particular skill sets.
I've used my writing skills to do social media and blog writing in Ecuador's cloud forest, at a surf camp in Costa Rica, and with a community tourism project in rural South Africa.
Other work exchanges require no experience and the jobs are easy.
For example, I did housekeeping and food prep in a family lodge in the mountains of Ecuador.
I've also worked in hostels in Porto, Portugal, and Marrakech, Morocco. These jobs consisted of tidying rooms, making beds, and preparing food. The work was easy and I got to live in amazing places for free!
How To Work While Traveling Option #2. Get a Visa and a Paid Job
The second way to work abroad is to obtain a visa and stay for a longer time period.
If there's a country that really intrigues you, why not just pack up and live there for a while?
Be sure to consider visa costs and requirements, the cost of living, language barriers and your likelihood to get a job.
If you have a skill that is in demand in that country, and you can afford daily life there, there's no reason why you shouldn't take the risk!
I've lived abroad with a visa twice now. I had a student visa in London for one year and a Working Holiday Visa in Australia for one year.
In both of these countries, I didn't have to overcome a language barrier and I could afford the cost of living with the wages I was making.
Living and working abroad may seem confusing, but once you obtain the visa the rest is just like living and working at home.
How To Work While Traveling Option #3: Seasonal Work
The third way to work abroad is to look for seasonal work.
Tourism companies need tour guides. Ski and surf resorts need instructors. Cruise ships need housekeepers, waiters, bartenders, and more.
These are just a few examples of businesses that hire people for only a few months at a time, and often the job description includes traveling or living abroad.
This is how I was able to live in Rome for five months.
I worked at Smart Trip student travel company as a tour promoter and tour guide. The only requirements for this job were an outgoing personality and a passion for travel.
The commission I made through tour sales wasn't much. But the company covered our rent, our public transport, and our travel expenses when we led trips with the students.
So I didn't make lots of money, but I did save a lot considering the exciting lifestyle I was living.
How To Afford Traveling The World In Your 20s Tip #3:
Find The Cheapest Flights
Though I believe any plane ticket is worth the money, the budget-traveler mentality should still be active when searching for flights.
Fly during off-season. Use budget airlines. Check flight prices daily on the right websites.
I have the most success with Skyscanner, though Google Flights and Secret Flying are all good places to find cheap fares.
Even consider changing your destination if you can find a much better deal somewhere else.
Flights at inconvenient times may be more difficult to make but they're usually cheaper. So take the 6 am trip and know that extra $20 will contribute to another flight one day.
I've flown from New York City to Bangkok and back for only $800.
I've found countless flights around Europe for under $10.
When deciding which country in Central America to visit, all I did was search for the cheapest flight. I found a flight from Florida to San Jose, Costa Rica for $100. Done.
All of these cheap flights I found were during the off-season of the destination. Peak tourist season is not only more expensive, but it's also more crowded.
I've found off-seasons to be just as culturally rewarding with fewer crowds, and the weather is still great depending on where you go.
How To Afford Traveling The World In Your 20s Tip #4:
Pack Lighty
Overpacking makes traveling more difficult and costly.
Only pack carry-ons when possible! Budget airlines can charge you as much as $60 for a checked bag.
This may not seem like much, but consistently packing less can save you hundreds of dollars in the long run.
Comfort always overtakes style while traveling. You'll realize that people care more about your personality, your compassion, and your experiences than how you dress or how much makeup you wear.
Pack fewer clothes and just do laundry more often. To really save money, hand wash your clothes in the sink or shower instead of paying for laundry service.
Only bring comfortable shoes and accessories that you know you'll wear often.
For toiletries and makeup, only bring the essentials and keep them under 100mL.
How To Afford Traveling The World In Your 20s Tip #5:
Find Cheap Accommodation
If you're fine with sacrificing luxury for affordability, stay in hostels.
If you're eager to meet people from all over the world and have an epic time, DEFINITELY stay in hostels.
I can't stress enough how amazing hostels are, though I was a bit nervous to stay in one at first.
Everyone has this image of hostels being sketchy, dirty dorm rooms where people steal your things. But this is rarely the case.
Why Hostels Are The Best
Reading reviews on Hostelworld can point you in the direction of places with a great social atmosphere and the amenities you need.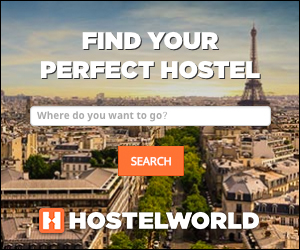 Some hostels have delicious free breakfasts, laundry services, city maps, group day trips and pub crawls, free group meals, fully equipped kitchens, comfy beds and nice showers, computers and printers, and anything else you could hope for.
They are usually centrally located, and you can even book a private room which will still be cheaper than a hotel.
Some of my favorite travel experiences have been in hostels, so don't be afraid to give them a chance.
In busy, touristy cities, a hostel dorm room can be around 10-20 USD a night.
But in less touristy areas and countries, a dorm room usually costs less than $10 a night.
I stayed in a hostel in Cambodia that had a rooftop bar and swimming pool, comfy beds, and air conditioning, and free pickup from the airport. It cost only $4 a night. YOU CANNOT BEAT THAT!
Couchsurfing
Couchsurfing is an even cheaper way to stay in a foreign city.
Join this online community to find hosts who allow travelers to stay on their couch for free.
I've never actually done this, since staying in a stranger's home doesn't exactly scream "SAFETY" to a small solo female traveler.
But I know plenty of people who have had great experiences with locals through couch-surfing. So the brave should definitely give it a go.
How To Afford Traveling The World In Your 20s Tip #6:
Eat and Drink Affordably.
Treating yourself to fancy cocktails and nice restaurant meals is a fun part of a vacation. But it's not conducive to making your money last while traveling.
How To Eat Affordably While Traveling
Try to cook about 75% of your meals, buy about 20% of meals at cheap street markets and food stalls, and dine out for 5%.
By cooking your own meals, you can still indulge in the local cuisine.
Go to the street markets and buy all the local, in-season produce, including weird foods you've never tried before.
When eating out, try to avoid restaurants near public squares and touristy areas. They'll most likely be overpriced and the food will lack authenticity.
Search for restaurants down quieter streets and look for places crowded with locals. If there's no English menu, you've hit the jackpot.
How To Drink Affordably While Traveling
A similar pattern follows with drinking. First of all, consider cutting back on alcohol in general. It'll save you money and you'll most likely enjoy a healthier, clearer mindset for exploring.
If you do love to party, drink what the locals drink, and chances are the cost will be lower.
This logic varies depending on the country, however.
In Italy, a bottle of wine costs 2-5 Euros. That's so cheap that you could drink wine every day and not spend too much money.
But in Australia, alcohol is so damn expensive that you could blow your whole travel budget on one weekend of partying. A beer costs 7-9 AUD and a cocktail costs 15-20 AUD. A bottle of hard liquor is around 50 AUD.
On the other hand, a glass of wine in Portugal or a beer in the Czech Republic can cost as little as 1 Euro in a bar. So it's not as costly to drink out in those countries.
Cater your alcohol habits to the local culture to find what's most affordable. You won't burn through your savings as quickly!
How To Afford Traveling The World In Your 20s Tip #7:
Use Transport Wisely.
Walk whenever possible. It costs no money and is a great way to see the world around you.
The number of times I've been exhausted and lazy and wanted to take public transport, but have forced myself to walk, is too many to count.
But I've probably saved hundreds of dollars over the last few years with this habit.
Even since living in Australia, I bought a super cheap secondhand bicycle on GumTree and have been biking to work to save money on transport.
If you do need to take public transport, always choose buses, metros, or trains over taxis.
Bookaway and Rome2Rio are handy websites that compare transport prices for destinations around the world. I always pick the cheapest option! Omio is also great for Europe!
How To Afford Traveling The World In Your 20s Tip #8:
Choose Attractions Wisely and be Mindful With Money.
I write down everything I spend on trips.
Not always, but within the last year I've found that visually looking at my expenses helps me spend less.
I just list every expense and try to keep that list as short as possible.
Avoid buying souvenirs or pay for expensive touristy attractions unless they are absolutely worth it.
Paying $100 for a trip to the Sahara Desert? WORTH IT.
Paying $100 to play with elephants in Thailand for a whole day? WORTH IT.
Paying $30 to ride the London Eye for 20 minutes, when there are plenty of other free viewpoints in the city? NOT WORTH IT.
But again, every traveler is different! I'm pretty strict on myself, but be sure to indulge in the things that will really bring you happiness. You don't want to leave a trip with any regrets.
Travel Insurance
Another common question about traveling is DO I NEED TO BUY TRAVEL INSURANCE?
I recommend reading my Budget Traveler's Guide To Travel Insurance for a super long and detailed discussion about this question.
But the short answer is yes, you should buy travel insurance. If you don't you risk having lots of expensive medical bills if there's an emergency.
Squaremouth Insurance is my go-to company for affordable travel insurance. Check out their website!
How To Afford Traveling The World In Your 20s Tip #9:
Ditch/Postone the idea of finding a "real job".
This point is less about budgeting and more about the overall mindset of traveling.
If you are determined to pursue a solid career path and advance in that field, as many 20-year-olds are in the USA, it will be hard to travel constantly.
Unless traveling is actually part of your job description, you may need to stay in one area to really focus on your career.
This is an admirable path, and you can still travel on your vacation days!
But if you're like me, and don't have a clear career path in life, why not spend your 20s seeing as much of the world as you can?
With this type of fluid, adventurous lifestyle, you need to accept that you probably won't be working for the same company and moving up in the ranks (again, unless that company is travel-related or allows you to work remotely).
The bright side of this is you can try many different types of work that appeal to you, knowing it's not permanent if the work doesn't suit you.
Working random jobs all over the world helps you learn new skills, form connections and gain communication skills.
Everything you learn while working abroad will develop your world view and your range of experiences. This will most likely benefit you in the long run.
More traditionally-minded folk may look at me, a 23-year-old bartender and think I need to get my shit together.
But I see myself as an independent, open-minded, and hard-working individual who just wants to take advantage of all the beauty and culture this world has to offer.
If I can explore this world and still have a decent amount of money in my bank account, so can you.
This post may contain affiliate links. Read more about this in my About Me page!